Singer Daler Mehndi takes blessings from revered saint Dr. Vasant Vijay Maharaj at Grand Shiv Mahapuran Yajna
New Delhi, August 22nd, 2023:
The famous Punjabi and Bollywood playback singer Daler Mehndi visited the revered national saint Dr. Vasant Vijay Maharaj during the 55-day Shiv Mahapuran Yajna. The elaborate Shiva court of Markandeya Hall in Chhatarpur hosted the Akhand Rudrabhishek Mahotsav 2023 celebration. The musician received the venerable Gurudev's blessing on the eleventh day of the blessed occasion.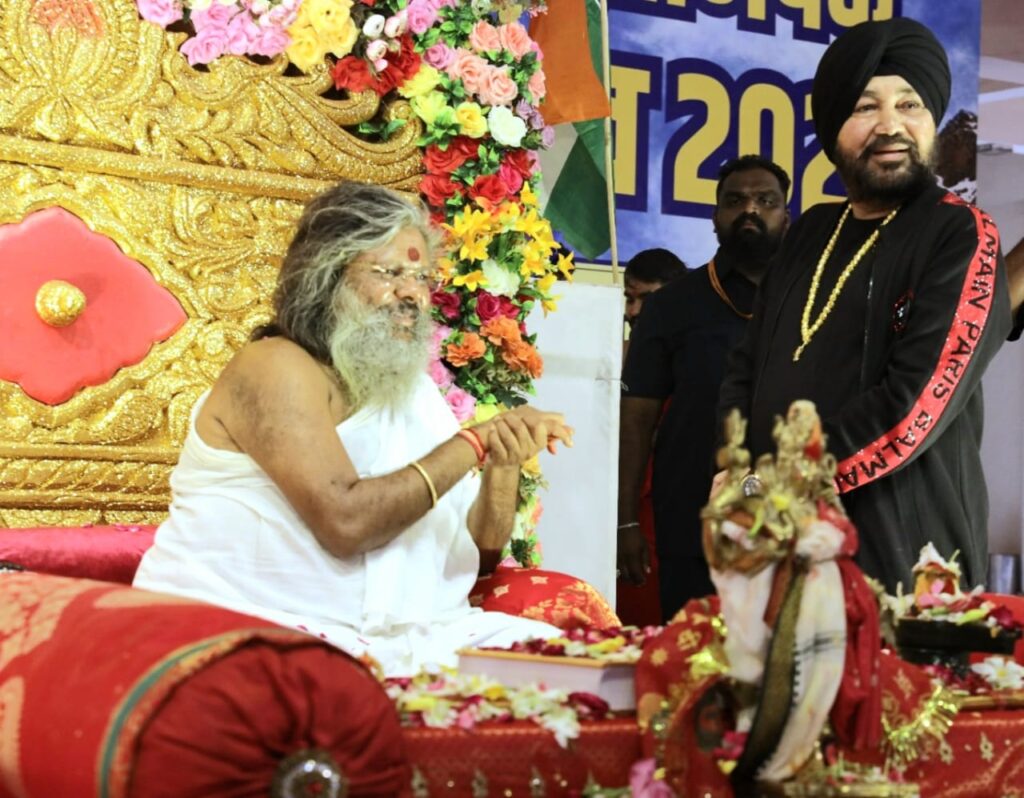 Dr. Vasant Vijay Maharaj is a revered saint, and Daler Mehndi said that Gurudev's mantras have an incredibly pure and potent resonance. The singer attended the event along with the well-known national saint, which also included a devotional ceremony to Lord Shiva.
As he reflected on his lengthy relationship with Gurudev, Daler Mehndi expressed his sincere gratitude for all the love and blessings Guruji had bestowed upon him. He talked about the significance of his visit to the magnificent Maa Padmavati temple that Gurudev had built. "Gurudev provided a novel approach: he had the capacity to guide 100,000 people into a two-minute meditative state that could alleviate discomforts like leg and head pain. "Daler Mehndi reaffirmed his belief in the effectiveness of this method, affirming the potential of such a simple but effective method of healing.
Numerous people's sufferings were allayed by Saint Dr. Vasant Vijay Ji Maharaj's magnificent Shiv Manas Puja, which was performed in the sacred space of the Shiv Darbar. The saint not only emphasized the importance of Shiv Manas Puja but also the transformative power of immersing oneself in the divine name of Lord Shiva as it is spoken of in the Shivpuran.
Dr. Vasant Vijay Maharaj emphasized how the offerings of wood, ghee, honey, and guggul could be used to reduce planetary influences while elaborating on the sacredness of the Yagya ritual. Devotees' lives are then blessed with happiness, peace, and prosperity as a result of receiving divine favor.
To assemble an impressive 2,17,000 earthly Shivalingas on the eleventh day of the festival, participants descended upon the Katha Pandal. Siddha scholars guide the worshipers as they revere these holy Shivalingas with the aid of mantra chanting. Over the course of the 55-day festival, a remarkable one crore eleven lakh earthly Shivalingas will be dedicated.